Course Schedule
Intro to GPS, and So You Want to Buy a GPS
Date: September 22, 2012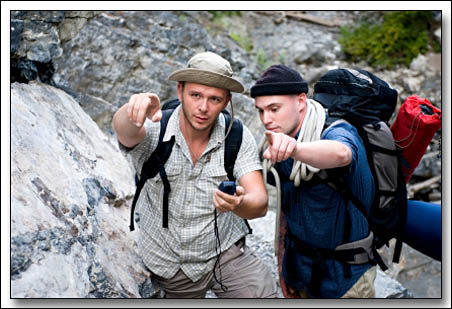 Some people learn by reading a user manual, or experimenting with a device by themselves.  Not everyone, though!
So if you are brand new to using a handheld GPS, or want to learn basic functions for outdoor use, then this course will get you started.
Time: 9am to 12pm (optional additional hour, see below)
Cost: $55
Minimum Class Size: 4.  Maximum Class Size: 10
Course Audience: Individuals who would like to learn basic functions of a handheld GPS for outdoor use.
Prerequisites: No previous experience using a GPS required.
Equipment: Students must bring their own GPS.  (Model must be submitted when registering, to enable a personalized settings handout.)  If you do not yet own a GPS and are taking the additional "So You Want to Buy a GPS" module from 12pm to 1pm (additional $10), then a unit will be provided for your use.  Discount for purchase of a GPS of your choice from a local supplier may be available.  Contact us for more details.
Course Topics:
Theory: What is GPS, and how does it work? The basics.
Terminology: waypoints, tracks, route, Position Format, Datum
Entering Settings: measurement units, position format, datum, time, resetting trip data
Techniques: mark and enter waypoints, find a waypoint, follow a track, access trip data
Optional: Additional hour (12pm to 1pm) for those wanting to explore the different types of units on the market, so they can make an informed choice when buying the right one for them.  $10 extra.
«
---